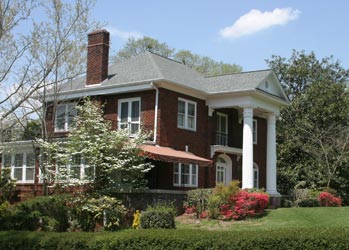 For Your Protection: Get A Home Inspection
Thank you for your interest in Gateway Home Inspections.  We have been in business for 24 years serving the upstate of South Carolina.  Our goal is to provide you with the most comprehensive evaluation and information about the property you've requested to have inspected.  You will be provided a report over the internet with a summary of the results of the home inspection.  When your report is uploaded to the internet, you will receive an e-mail containing a user name, password, and instructions on how to view your report.
About Your Home
Your report will be broken down into ten components of your home:
                           1  Foundation, Basement, & Structure
                           2  Exterior:  Siding, Windows, Other Elements
                           3  Roof and Attic
                           4  Plumbing System
                           5  Electrical System
                           6  Central Heating System
                           7  Air conditioning System
                           8  Interiors:  Walls, Ceilings, Floors, Doors
                           9  Insulation and Ventilation
                          10 Kitchen Appliances
Each element of your home will be inspected and graded as to its fitness for intended purpose and safety.
About Your Report
Information reported is done under the guidelines set forth by the SC Department of Labor, License, & Regulation and Standards & Practices for Home Inspectors.  Your report is an objective third party, experienced evaluation of the home at the time of inspection.
It is not an appraisal of value, warranty, or guarantee.  We will not advise suitability of use or advisability of purchase.  We will give you information about the home to assist you in making your purchase.
Moving into a home without having the home inspected is an invitation for problems and surprises for you and your family.
It is your responsibility to be an informed buyer.  Be sure what you buy is satisfactory in every respect.